Choosing the right marketing automation tool is a big decision, and one that you might be facing right now if you have taken the time to visit this Marketo Engage vs Microsoft Dynamics 365 comparison blog!
Whether you are looking to upgrade from your existing tool, migrate systems, or even if you're choosing an automation tool for the very first time, we hope this comparison will help you to compare two of the big players in the marketing automation space: Marketo Engage and Microsoft Dynamics 365.
While Microsoft Dynamics 365 is a more comprehensive tool, in this blog we'll focus on the Customer Insights app, comparing its marketing automation functionality to Marketo Engage.
Side by side analysis
First, let's take a high-level look at how both platforms compare for the key features below: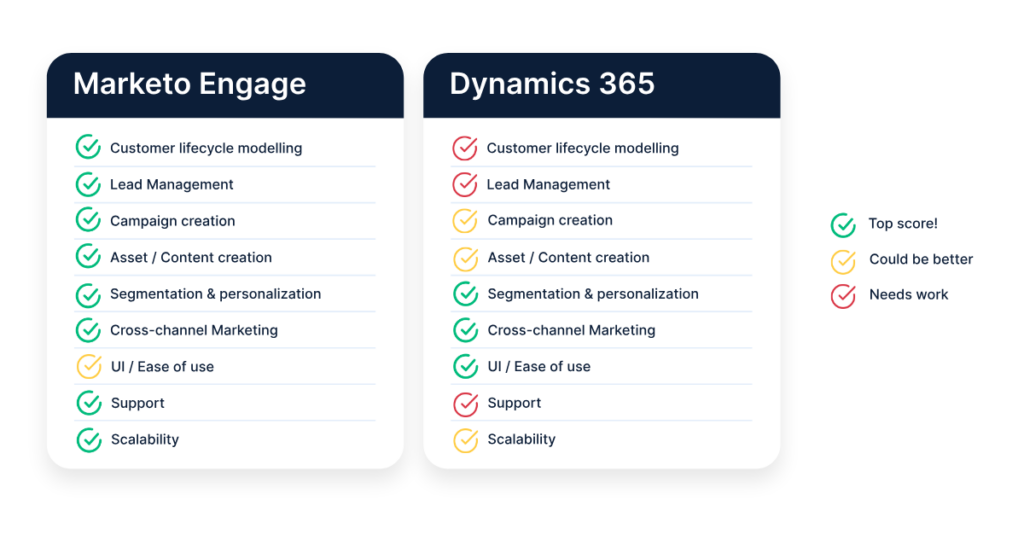 Let's compare the key features in more detail:
Our team of marketing automation experts examined both tools and have picked out nine key areas of comparison, which we'll explain one by one in the rest of this blog.
Customer lifecycle development
A customer lifecycle should form the foundation of all Marketing activity, mapping the sales and marketing funnel from first engagement to conversion.
The Marketo revenue model is a tool designed to plot this journey and understand key touchpoints at each stage to dictate marketing/sales activity.
These key stages can be captured in Dynamics CRM but can be difficult to visualise and utilise. Within Marketo, this model forms the foundation of all activity.
Managing the buying journey
The ability to determine and analyse lead quality allows us to effectively qualify the right people at the right time.
Marketo lead scoring allows you to quantify the quality of a lead throughout the customer journey.
Marketo scoring can be used in tandem with the revenue model to move customers through the buying journey.
Both solutions allow us to create customer criteria to convert leads.
Campaign creation and capability
Campaigns are the marketing engine used to attract, engage and convert.
Marketo's flexible "programs" solution means that if you can dream it, you can build it in Marketo!
Marketo engagement programs can be used to customize "streams" of content to nurture people through their buying journey.
Dynamics offers a very intuitive "journey" mapping feature to build communication flows but can be tricky when it comes to creating "triggers" to power the journey.
Personalizing customer engagement
Both solutions offer segmentation and personalization.
Whilst Marketo has "lists", Dynamics has "Segments", both allow the user to create a targeted audience.
Both solutions allow personalization through "Tokens" and Dynamic Content (Powered by "Segmentations" in Marketo).
Both solutions are beginning to utilise AI to support segmentation and personalization. (Predictive content/Sensei Vs CoPilot)
Creating engaging content
Marketo and Dynamics implement the "drag and drop" asset building logic.
Marketo however, allows an additional level of flexibility throughout.
Both solutions offer the ability to create custom templates.
Marketo custom templates, however, have almost limitless customization. Modules and Variables can be created to make the building process flexible and user-friendly.
Within Marketo, we can also implement Velocity script for even greater personalization.
Cross-channel marketing success
Both solutions offer Email "out of the box" and a simple connection to unlock SMS and mobile push.
Dynamics offers a better UI experience to build SMS communication within the platform.
Both solutions are SMS provider agnostic and simple to integrate.
Marketo has "out the box" connectors to social and online advertising networks through AdBridge.
Working with the solution
As with all Marketing automation solutions, "It's easy when you know".
Dynamics has clearly prioritised UI and ease of use.
The structure of the instance is designed to walk users through the process and journey canvas allows a clean visualisation of your marketing efforts.
Marketo prioritises functionality. The flexibility it offers can look less "structured" at first glance.
Getting the support you need
Adobe Marketo has a strong community with resources that currently outweighs that of Microsoft Dynamics.
Marketo Engage has a large community of active users and an expansive knowledge bank available online.
Marketo Engage has a strong consultant offering (including JTF Marketing!)
Facilitating scale and growth
With Marketo, your instance can be configured to suit your needs now, and forever.
Microsoft Dynamics is certainly the more simplistic tool and hence, is easier to plug in and play.
Marketo can be a little daunting for the first time user but once you "warm up the tires" it can outrun most solutions in the space.
Marketo Engage has the ability to seamlessly integrate with a wide ecosystem including CRMs (Notably Dynamics 365), Marketing tools, analytics and much more.
Marketo Engage vs Microsoft Dynamics 365: what's our favourite?
It won't come as a surprise that for us at JTF Marketing – a consultancy that specialises in Marketo Engage – Marketo is the winner! So why do we love Marketo when compared to Microsoft Dynamics 365?
Control over the buying journey: Using Marketo to build and manage the customer lifecycle can support marketing teams to generate the right leads and the sales team to have the right conversations, at the right time.
Empowering Marketing teams: Marketo is a powerful ecosystem. Its flexibility as a solution allows Marketing teams to build the campaigns they need quickly and efficiently.
Support and scalability: The strong support network of consultants, users, groups, forums and tutorials within the Marketo community empowers marketing teams with everything they need to succeed. This is not seen with many other solutions in the space!
But of course, choosing the right tool for your team's needs ultimately depends on your business goals, and we hope that this blog helps to guide you in the right direction when reviewed alongside those goals.
If you need some more detailed advice, click here to speak to one of our Marketo Engage experts about your unique requirements.