Recently, a trend that seems it is here to stay has completely swept the tech world off its feet. It is called Dark Mode – a challenge for all IT experts, including the digital marketers, especially the email marketers who are continually receiving requests from their clients to make their technologies, and email templates dark mode compatible. The successful implementation of this mode brings in new rules that put IT experts to the test – how quickly and smoothly can they transition.
This is exactly what is happening for Marketo users as well, as the dark mode frenzy sets in many marketers aren't working with dark mode compatible templates. Let's go over the details about this phenomenon and see why you should change your templates today!
Dark Mode defined
Basically, is a setting that shifts the colour palette of the interface to display the content in black background and light foreground colour using high contrasts. It is defined as a reversed colour scheme where the typography, UI elements and iconography are all displayed with light colours, whereas the background is contrasting dark.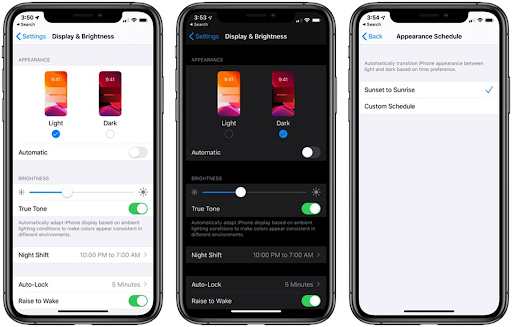 The first introducers of this trend were Apple and Google and all of them presented it as a setting that has many health benefits for those of us who are stuck to our screens for long periods of time. Or, more precisely, Apple said that it is "a dramatic new look that helps you focus on your work" and also "distraction-free environment, easy on the eyes – in every way". It seems that this definition is right spot-on, being pragmatically complemented by Google's vision – "to improve visibility for users with low vision and those who are sensitive to bright light", as well as "make it easier for anyone to use a device in a low-light environment."
Advantages of Dark Mode
Based on the experience with the Dark Mode and the vision for improvement, several benefits of using it emerge: improving focus, readability, eye-strain and battery life – which means it will have a significant impact on the devices we use and generally, people's health.
Taking all of this into consideration, it is no wonder that dark mode is coming to the inbox, too. Whilst there is no scientific proof of the advantages of dark mode on devices, it comes down to user preference.
The impact of Dark Mode on emails
If we talk about plain text emails, then there is not much discussion around the impact because we're simply utilising high contrast inversion to display the text. It is a simple code change as the plain text is black on white, which can be automated by many email clients or browsers. However, with custom-made HTML emails and landing pages, things can get a bit complicated since there are distinctive components with different defined colours that can't easily transition to dark mode. A good example is logos or images with white backgrounds or frames.
What happens in Dark Mode in emails?
At this time, there are three basic types of colour schemes that are used to switch to the Dark Mode setting. The first one is no colour changes. This means that the email client you are using lets you switch to Dark Mode, but it doesn't affect the rendering of your HTML email. The email will look completely the same regardless of you having chosen Light or Dark Mode. Rendering the Light Mode designs by default are done by email clients like iOS and Apple mail.
The second type of colour scheme is a partial colour invert. This dark mode setting applies to areas with light backgrounds and inverts them, making the light backgrounds dark, whereas the dark text becomes light. This type might result in a fully Dark Mode design which can be overridden by the setting Dark Mode targeting, supported by most email clients.
The third type is full-colour invert, which is also the most invasive colour scheme as it impacts the dark backgrounds together with the inverting of light backgrounds. Or, more visually presented, if your emails have a dark theme, they will be switched to light. This method is used by Gmail app (iOS13) and Outlook 2019 (Windows).
This is the most problematic scheme at the moment as not only it radically changes your email but also you can't use Dark ode targeting at the moment.
Email clients that support Dark Mode
Here is the list of clients that offer Dark Mode: Gmail App (Android), Gmail App (iOS), Outlook App (Android), Outlook App (iOS) from the mobile Apps; Apple Mail, Outlook 2019 (Mac OS), Outlook 2019 (Windows) from the desktop clients; and outlook.com from the web clients.
For others, it is quite a challenge as they are not optimised to switch to the dark mode. However, alternatives are being coded every day, so it will be soon when the optimal solution appears.
Are you interested in finding out how your email template will look in Marketo?
Request a dark mode review of your templates
The challenge for email marketers
The biggest challenge of all, when it comes to implementing Dark Mode, is the difficulty to know how precisely the email will look like when it renders. This makes it hard for the email marketers to control and requires compatible email marketing templates. The dilemma arises as to whether marketers accept the involuntary changes or try to find an alternative way of managing customer experience in dark mode.
Why your Marketo Emails must be ready for Dark Mode?
Apart from the benefits mentioned above in the text, getting your Marketo emails ready for Dark Mode is a new priority because your email recipients are using dark mode now, and you want to provide your clients with the superior user experience.