Similar to other marketing automation maturity models, the Marketo Maturity Curve allows you to decipher the level of 'maturity' that your company currently holds on the MarTech platform. Put simply, it does this by assessing what features you do currently use and which you don't.
Where do you currently sit?
Level 1 – The Marketo Journey starts here. Marketo users at this stage are likely working more ad hoc, successfully running single-channel campaigns, primarily email and maybe even organising events. Still, a limited level of marketing automation is incorporated. It's time to start laying the groundwork for automation with your technology stack and planning a bit longer term.
Level 2 – Now, we're starting to gain momentum. Thanks to more hands-on experience with the platform, users at this stage will be incorporating more automated best practices and noticing a difference in their measuring and analysing capabilities.
Level 3 – Things are running a lot more smoothly, and it's time for advanced tool integration and a stronger marketing-sales alignment to optimise capabilities and get everyone moving in the same direction – scalable and strategic engagement and ROI!
Level 4 – At this stage, users can plan and execute multi-channel campaigns at a global level strategically. Lifelong relationships can now be formed thanks to the mastery of lifecycle nurturing. 
The further companies move up the levels, the more they are likely to see an impact on marketing operations and ultimately reap these main benefits: 
Revenue growth
Marketing efficiencies and effective analytics
Improved customer experience through dynamic lead management and nurture
Better sales and marketing alignment with improved customer insights
Timely content personalisation across channels
So how do we get there?
This model is great in providing you with a top-level assessment of your Marketo maturity position, but what if you need something more in-depth that explains exactly how you can get more out of the platform? Our Marketo roadmap might be just the thing for you. It will help you to see the exact actions you can take to solve your challenges and meet your objectives in a scalable way – ultimately maximising the capabilities that marketing automation and Marketo have to offer.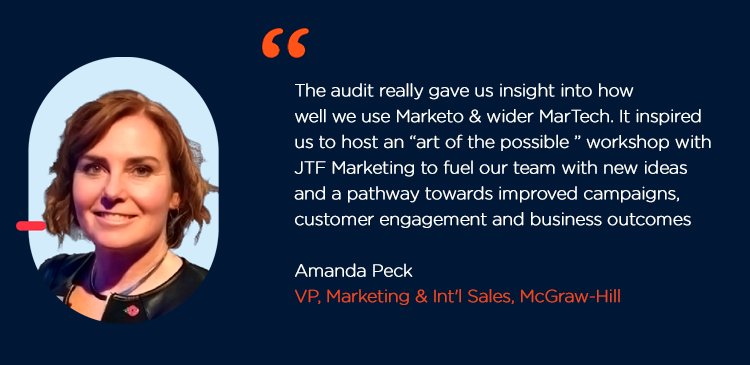 Upskill to advancement
If you're appearing lower down on the maturity scale than you had first imagined, some training might be in order to get you and your team up to speed with some of the more advanced features of Marketo Engage.
Alternatively, you might need a helping hand to push your Marketo deployment to the next level. Did you know that on average it can take companies up to 24 months to get to the point where they are confidently using email templates and landing pages and starting to manage their data a bit better? Sadly, in many cases, it stops there.
We can help – we offer online Marketo training courses that cover the fundamentals right through to getting enough expertise to pass an (MCE) exam – for both individuals and teams. Our complete training library can take as little as 6 weeks to complete and is available at 50% of the price!
What now?
If you're not sure where your company is on the Marketo Maturity Curve or need some advice on how to progress in your maturity – get in touch, our experts are on the other side of the computer to help!