Why is social still considered the unproven channel
For all too many companies when it comes to social media marketing it's still the unproven channel, but with 44% of us worldwide spending more time on social media (e.g Facebook, Instagram, Twitter) due to COVID-19 (yep sorry another mention) now is the perfect time to engage and convert on those channels.
But why is social so undervalued in the world of B2B marketing? Here are a few thoughts…
5 reasons your B2B social doesn't work
Your engagement data is siloed and not connected to your marketing automation platform
Sales are too busy building their own individual networks to worry about the company pages
There is no way to seamlessly handover a social response within your business
Prospective customers engagement on social is not part of your lead scoring model
Measuring ROI is really tough because you don't have a mechanism to measure influence
How to hook up your lead scoring model to social
Most B2B teams are using a diverse range of marketing automation technologies for nurturing, lead scoring models and attribution, but often it's limited to email marketing campaigns, paid sponsorships, events and maybe some content marketing. This enables us to build implicit scoring models which help the sales team prioritize leads who are visiting your website and engaging.
But when it comes to social lead scoring we're in uncharted territory. Mainly because marketing automation platforms like Marketo, SFDC Marketing Cloud, Oracle have never built in social media capabilities beyond the basic share.
Enriching your lead scoring model with Oktopost
There are dozens of tools out there when it comes to social media management but none of them have been built for B2B and importantly to enrich marketing automation capabilities with social media engagement. Which ultimately means social lead scoring!
JTF Marketing have partnered with Oktopost who are the world's leading B2B social media management and employee advocacy platform with integrations into all of the main marketing automation platforms.
With Oktopost integrated with your marketing automation platform, say Marketo, you'll be able to tie up social interactions to your Marketo lead database using Oktopost's intelligent Matching AI.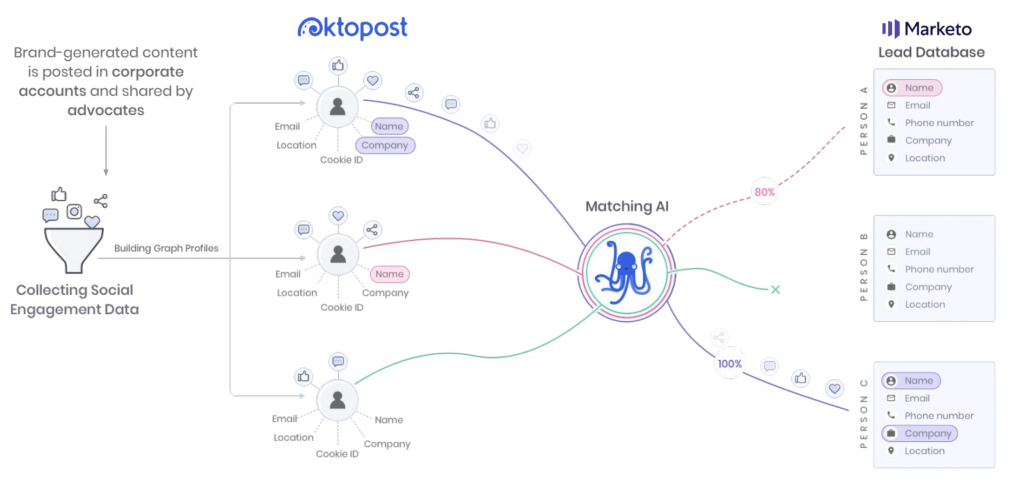 We recommend Oktopost as it's simple to get up and running and a comprehensive platform for creating, curating and engaging with your social channels and allows you to build social lead scoring models that help your sales team convert prospects into customers.