Hubspot is cheaper than Marketo
When comparing Hubspot and Marketo, the standard feature list in Marketo is far more extensive. You get more functionality for your money when buying Marketo. In many cases, these add-ons end up negating the savings initially made by using Hubspot.
Hubspot's interface is easier to use
There is no doubt about it: we all love a "wizard" setup. However, the problem is that these kinds of guided setups are best suited for simple, entry-level functionality. On the other hand, Marketo's interface has a lot more functionality, features and capabilities, which may make it seem more complex. However, most Marketo users launch their first campaign in the first few hours of using the tool.
Scaling for success
Marketo's ability to clone a campaign is not found in any other marketing automation software. Cloning in Marketo allows users to reproduce entire campaigns (including emails, forms, landing pages) in as little as a few minutes. This unique feature can drive efficiencies when building out campaigns by reusing elements that work well.
Hubspot has faster innovation – but not deeper innovation
Whilst Hubspot have made a big song and dance about their innovation, their offering is merely broadening, not deepening. In fact, Hubspot's expansion into CRM could be seen as a distraction from developing some key functionalities that are still lacking in the platform.This is a risk for marketers and businesses who are committed to building more complex sales and marketing models.
Reporting & attribution
One of the most important areas when weighing up Hubspot vs. Marketo is how we can demonstrate marketing ROI. Hubspot's capabilities are limited to inbound activities; any advanced reporting is considered an add-on for additional business intelligence technology. Meanwhile, Marketo has out-of-the box, full ROI visibility built into its campaign performance reporting and advanced attribution modelling capabilities.
One solution for CRM and Marketing
The dream scenario is having everything you need in one platform: it's easy to manage, doesn't need to be integrated, etc. Unfortunately, the reality for enterprises who take this approach is an "all the eggs in one basket" situation. Not only is there a potential data and security risk in having your marketing and CRM databases in one place, but having them in the same platform doesn't assure that either solution is best-in-breed. This demonstrates that the Hubspot vs. Marketo debate comes back to the size of a business and its strategy for growth.
WHY MARKETO?
Marketo allows you to build personalised and scalable experiences to engage leads during the entire customer lifecycle. Marketo's use cases extend well beyond inbound lead generation and can be utilised for email marketing campaigns, CRM data hygiene and data management, content predictability and measurement, and multi-touch attribution modelling.
The platform is the leader in the digital marketing hub and CRM lead management space since 2015. The Marketo reviews are excellent and users prefer it over other marketing automation platform solutions.
How the analysts see Hubspot vs. Marketo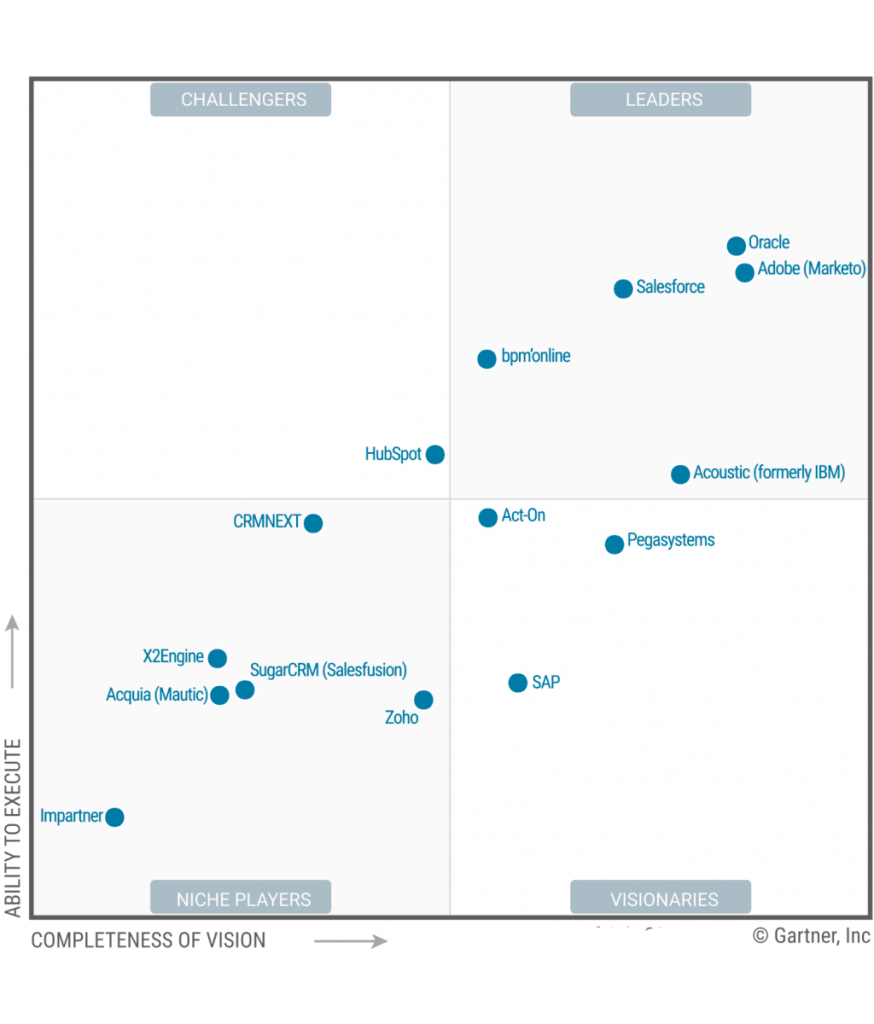 Marketo has been a leader in Gartner's Magic Quadrant for CRM Lead Management for 7 years in a row! The last time Hubspot was included was in 2015.
Marketo has also been a leader in Gartner's Magic Quadrant for Digital Marketing Hubs (which has never included Hubspot) since 2015.
Forrester has ranked Marketo as a Leader for Lead-to-Revenue & B2B Management platforms since 2016, highlighting Marketo's ability to scale a contextualised nurture strategy with fine-tuned segments and deep web personalisations which enable marketers to deliver unique, targeted experiences. (Hubspot, on the other hand, was viewed as best for small and medium businesses with simple homogenous buyers).
7 REASONS TO CONSIDER MARKETO
Full-funnel solution – Marketo allows marketers to build engagement programs for the entire customer journey.
Enterprise grade integrations & APIs – Marketo has unrivaled native integrations to Salesforce and Microsoft Dynamics CRM for ease and security. Conversely, if you're using a custom CRM, you can integrate your custom CRM using the robust and secure REST or SOAP APIs, or simply utilise a third party integrator like Aromerge.
Flexibility & scalability – Marketo allows you build everything from a simple email send through to an entire automated customer lifecycle, allowing your to personalise and adapt based on the customer experience.
Multi-touch attribution modelling and reporting – you can utilise Marketo features such as the Revenue Cycle Modeller to visualise your customer journey. Alongside this, you can benefit from multi-touch attribution: not only will you be able to see how fast your leads are travelling through the pipeline, but you'll also gain data-driven insights for optimisation of your lead funnel.
Multiple lead scoring models and fields – these are a big advantage for Marketo in the Hubspot vs. Marketo debate. Marketo will allow you to develop not only global scoring models, but regional scoring models (and even customised models like propensity, satisfaction, or even proposition scoring models) as well.
Ability to create multi-channel nurturing journeys – Marketo's powerful marketing automation platform allows you to orchestrate multi-channel campaigns to deliver unique customer experiences. Best of all, Marketo is data-driven, which means that your campaigns will be optimised and developed through dynamic campaign elements.
Marketo Adbridge – if there is one feature which is more valuable than any other in Marketo, it's Adbridge, which allows you to develop audience lists that can be targeted across advertising and social channels to boost conversions through an integrated journey.
If you've reached this page you are either in the market to implement marketing automation software for the first time (and comparing tools) or you are starting to think beyond your current toolset. Or, maybe we've directed you here to have a look at how your marketing automation tool compares!
As a specialist marketing automation agency, it's our job to ensure our clients have the technology necessary to meet their requirements today AND allow them to scale and connect in the long term. (That famous saying "think big, start small" springs to mind).
Hubspot: One of Marketo competitors you always hear about
As you can imagine, we often get involved in the Hubspot vs Marketo conversation. Marketers want to know which is the better option: Marketo or Hubspot At the time it was founded in 2006, Hubspot's mission was to help small and medium-sized businesses manage their inbound marketing campaigns, with the goal of reducing marketing spend. Were they successful? In some cases, yes. In others, no.
Hubspot marketing automation platform is said to put its focuses on the client with an all-in-one system. Also, it highlights its simplicity to use the marketing tools and the built-in CMS. However, it is not as easy as it sounds. Especially for bigger companies.
It all comes down to your marketing strategy: if you have aggressive growth plans, you'll need a feature-rich and customisable tool that allows you to scale your marketing efforts to drive visible ROI.